Bryn Athyn Cathedral Construction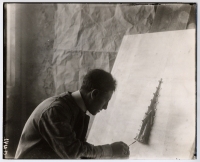 Bryn Athyn was founded as a religious community in the late 19th century by members of a Christian denomination known as the New Church. It is home to some of the area's most remarkable architecture, buildings that reflect the religious faith of the community's earliest residents.

Ground was broken for Bryn Athyn Cathedral in 1913. At first the cathedral's architect was Ralph Adams Cram, the country's leading proponent of Gothic Revival architecture. However, Cram's involvement with the project ended in the spring of 1917, leaving Raymond Pitcairn, a lawyer with no formal training in architecture, fully in charge of both construction and design. The cathedral is renowned for the old world craftsmanship used to create its medieval style architecture and magnificent stained glass windows. (The subject matter of the cathedral's decoration, however, was based entirely on New Church teachings.) In an effort to build in the medieval way, methods were used that were highly unusual for the 20th century. Instead of relying on predetermined architectural plans, the building evolved organically, and the designers relied on both scale and full-size plaster models. Despite his lack of training in reading architectural drawings, the three-dimensional models allowed Pitcairn to participate fully in the design work. The full-size models, which were tested in place on the building, made it easy for designers and craftsmen to collaborate and develop ideas together.