Cairnwood Album 1900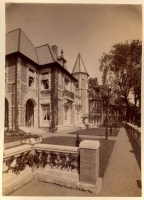 Bryn Athyn was founded as a religious community in the late 19th century by members of a Christian denomination known as the New Church. It is home to some of the area's most remarkable architecture, buildings that reflect the religious faith of the community's earliest residents.

Cairnwood, a 19th century country house in the Beaux Arts style, was completed in 1895. Built as a home for the John and Gertrude Pitcairn family, early church publications and photographs show that Cairnwood was also an active center for church meetings and Academy of the New Church social life. Designed by Carrere and Hastings, one of the country's leading architectural firms, Cairnwood was a large country estate, consisting of the main house, an adjacent courtyard, and a formal garden with garden house, greenhouses and a pergola. Just a few feet from Huntingdon Pike were the stable and entrance gate to the estate. Across the street was Cairnwood Farm, which provided Cairnwood and other homes in the new community with milk, eggs, produce and grains. The most striking feature of Cairnwood when viewed from across the spacious lawn is an octagonal tower with a high pitched roof. At the top of this tower is the family's chapel, placed at the highest point in the house and designed so that worshipers would face east. Cairnwood, now owned by the Academy of the New Church, still hosts many Academy events, and can also be rented for meetings and special occasions.