Bryn Athyn Cathedral: The Building of a Church
E. Bruce Glenn
---
Epilogue
As the writing of these pages comes to a close, the fabric of Western culture is being strained and torn. Traditions once hallowed hang in shreds, and bitter voices fill the air with animosity. Those seeking sincerely to build a new world search for footing among the old foundations, or look about uncertainly for a new place from which to start. Others turn their backs with indifference born of despair or a dark new ignorance.
Still they come to view the church at Bryn Athyn—artists and photographers, families on an outing, the old searching for quiet, the young in need of beauty. They look upon its serenity and grace, they feel the assurance of its steadfast stones. And they perceive, in varying degrees, the realization here of high purpose above the welter of daily existence.
Unlike those who went in pilgrimage to the medieval shrines, these visitors are not of one faith or philosophy. Yet they can share a mutual experience that is itself a declaration of faith: that in creative use there is joy unknown to the forces of destruction, that the single man counts when working in harmony with the community.
There may perhaps never be another church built like the Bryn Athyn Cathedral. This book does not purport to be a blueprint, but the record of a human endeavor brought to lasting fruition. Even for those who do not enter in worship, the Cathedral is no monument to the past but a living house, lifted above the divisive cares that have left so many Babels in half-built ruins. And to those who find within its walls a renewed vision of God, it is, as William Frederic Pendleton declared in the dedication sermon of 1919,
a place where a man may forget the world, its toils and cares, its uncharitable thoughts, its harsh and bitter feelings, its envies and its jealousies, and with a repentant heart go as to the house of God, and there fulfill the spirit of the Lord's words on the Mount:, "If thou bring thy gift to the altar, and there rememberest that thy brother hath ought against thee; leave there thy gift before the altar, and go thy way; first be reconciled to thy brother, and then come and offer thy gift."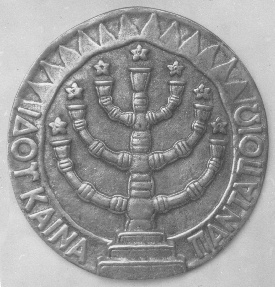 Behold, I make all things new. Click on image for a larger version.
Top | Previous Chapter: The Choir Hall and Michael Tower | Next Chapter: Glossary | Table of Contents