The Making of the Glencairn Methuselah Window: Page 73
Back to Introduction
Previous Page | Next Page
---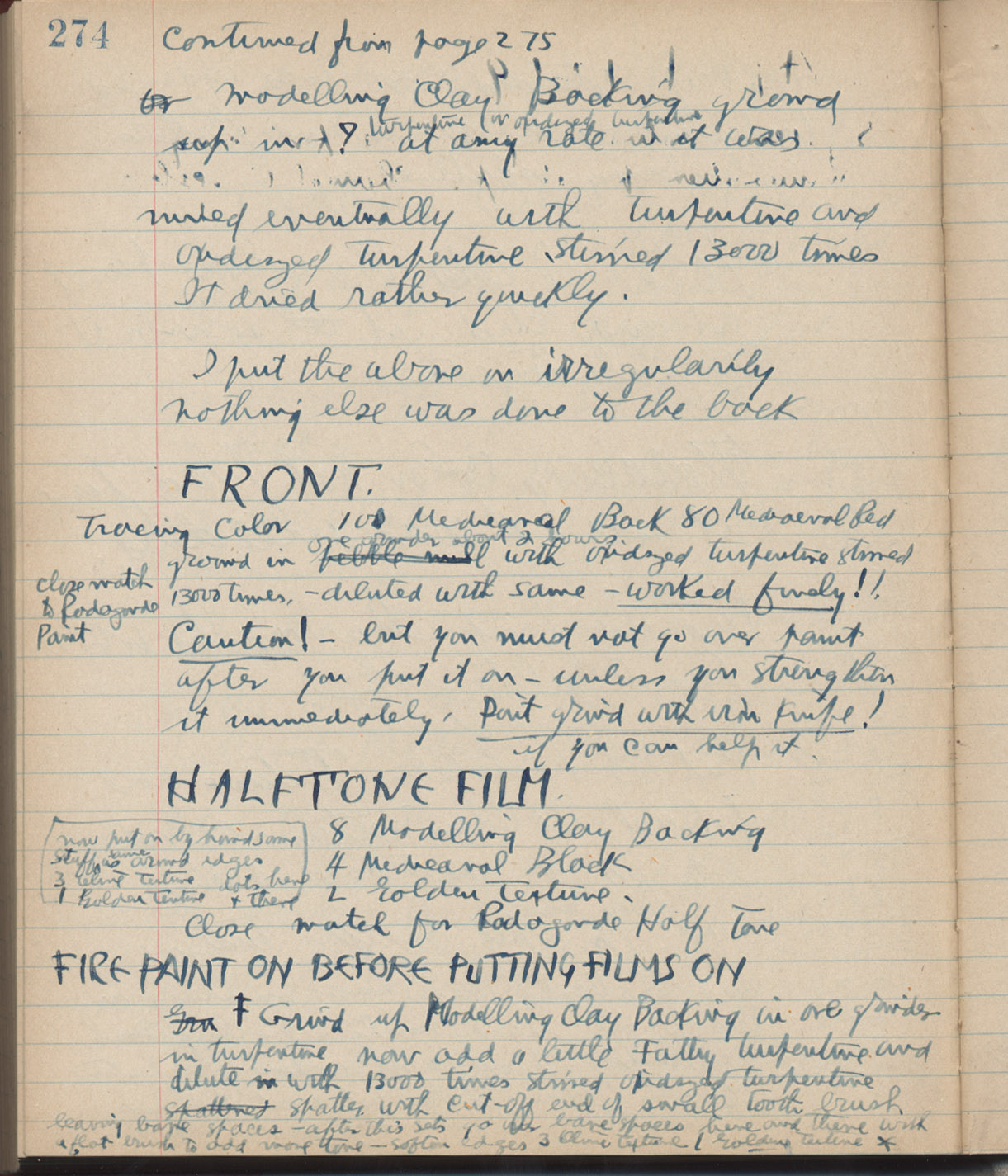 continued from page 275 <sic>
Modelling Clay Backing ground up in turpentine at any rate it was mixed eventually with turpentine and oxidized turpentine stirred 13000 times
It dried rather quickly.

I put the above on irregularly nothing else was done to the back

FRONT
Tracing Color 100 Mediaeval Black 80 Mediaeval Red
ground in one grinder about 2 hours with oxidized turpentine stirred 13000 times – diluted with same - worked finely!! (close match to Radagonde paint)

Caution! – but you must not go over paint after you put it on – unless you strengthen it immediately. Don't grind with iron knife! If you can help it.

HALFTONE FILM <note in box - "now put on by hand some stuff as ame around edges 3 Olive texture, 1 Golden Texture, dots here and there">
8 Modelling Clay Backing
4 Mediaeval Black
2 Golden Texture
Close match for Radagonde Half Tone

FIRE PAINT ON BEFORE PUTTING FILMS ON

Grind up Modelling Clay Backing in one grinder in turpentine now add a little fatty turpentine and dilute in with13000 times stirred oxidized turpentine. Spatter with cut-off end of small toothbrush leaving bare spaces – after this sets go over bare spaces here and there with a flat brush to add more tone – soften edges 3 Olive texture, 1 Golden Texture.